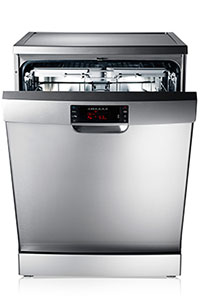 When choosing a dishwasher it is important to consider the number of family members and the space available, as not all kitchens have space for a dishwasher.
For smaller kitchens, we can use a 45 cm wide dishwasher, which usually has a capacity of 8 to 10 place settings. If you have enough space, the 60cm wide dishwashers have a capacity of 12 to 14 place settings.
The new models use a 3-in-1 detergent detection system, for those tablets containing detergent, salt and rinse aid, which helps the maintenance of the appliance.
The 3rd cutlery tray is also very useful, as it allows for more efficient washing of the cutlery, as well as gaining the space occupied by the cutlery basket in most dishwashers.
Always remember that an appliance with a high energy rating (A) will help you to save on your energy bill, and will also help to respect the environment. In addition, in the case of the dishwasher, the water consumption for using the appliance at full load is lower than washing by hand.